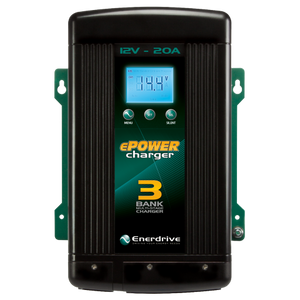 Enerdrive ePOWER 20A/12V Smart Charger - Three Output
$42500

$425.00

Save $92
Tax included.
Shipping
calculated at checkout.
---
---
ENERDRIVE EPOWER 20AMP BATTERY CHARGER
The Enerdrive ePOWER 20A Battery Charger is a fully automatic, "set and forget" charger. It is designed to quickly and accurately recharge your batteries using algorithms that help maximise service life. Multistage smart charging technology enables the charger to be connected to your battery banks permanently.
As dictated by battery manufacturer's recommendations, batteries require a multistage charge sequence for perfect, fast and accurate charging.
The Enerdrive ePOWER charger can be programmed for Lithium batteries. This setting delivers the full rated output of the charger constantly with the charger switching to power supply mode once the voltage peak is met (indicating a full battery bank).
20A Battery Charger Features:
Multistage Charging: Fully automatic multistage 20A battery charger with the ability to charge 3 separate battery banks.
Separate Battery Banks: Isolated charging design where battery bank one is separate from battery bank two and three.
Programmable: Battery bank 1 can be programmed with a different charge algorithm over banks 2 and 3.
Current Control: User adjustable current output (e.g. Dial the 60amp unit back to run off a 1kVA generator).
Smart Charging: The ePOWER 20A battery charger will regulate its output based on the loads connected to your battery banks.
Wide AC Input Range: Operates on both 110V / 60Hz and 240V / 50Hz.
LED Display: Easy to use "set and select" menu along with scrolling charger status.
Silent Mode: Disables the cooling fan for total silent operation at night or whenever required. Activation reduces charge output by half and locks out fan for 12 hours.
Temperature Sensor: Battery temperature sensor included with 3 meter cable.
5 Year Warranty from an Australian company renowned for customer support.
SKUEN31220
BrandEnerdrive
GTIN9342616000243
Product CategoryBattery Chargers
Voltage12V
Output Current Rating (Amps)20 Ah
Weight2.4 Kg
Dimensions295 x 206x 86 mm (L x W x H)