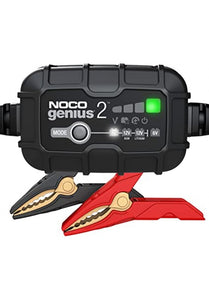 NOCO 6/12V 2A SMART BATTERY CHARGER LEAD ACID, FLOODED, GEL, AGM LITHIUM-ION BATTERIES
$10900

$109.00
Tax included.
Shipping
calculated at checkout.
---
---
NOCO GENIUS2AU 6/12V 2A SMART CHARGER LEAD ACID, FLOODED, GEL, AGM LITHIUM-ION BATTERIES
Meet the GENIUS2AU - Similar to our G1100AU, just better. It's 30% smaller and delivers 140% more power. It's the all-in-one solution - battery charger, battery maintainer, trickle charger, plus battery desulfator.
Do more with Genius - Designed for 6-volt and 12-volt lead-acid automotive, marine, and deep-cycle batteries, including flooded, gel, AGM, and maintenance-free, plus lithium-ion batteries.
Enjoy precision charging - An integrated thermal sensor detects the ambient temperature and alters the charge to eliminate over-charging in hot climates and under-charging in cold climates.
Charge dead batteries - Charges batteries as low as 1-volt. Or use the all-new Force Mode that allows you to take control and manually begin charging dead batteries down to zero volts.
Restore your battery - Automatically detects battery sulfation and acid stratification to restore lost battery performance for stronger engine starts and extended battery life.
Beyond maintenance - It's not just a trickle charger, it's an advanced battery maintainer. A fully-automatic, worry-free battery charger for everyday use - 24/7 - with zero overcharge.
Compatible with all types of vehicles - charge and maintain cars, motorcycles, motorbikes, lawn mowers, atvs, suvs, boats, and more - you name it.
Product Highlights
A 6V and 12V battery charger and maintainer.
Charges low voltage batteries
Charges lead-acid and lithium-ion batteries up to 40 amp-hours.
Recovers deeply discharged batteries down to 2-volts.
Spark-proof technology and reverse polarity protection.
Built-in battery desulfator to recover worn-out batteries.
Safely monitors battery actively with zero overcharge.
Suitable for start-stop and CANbus vehicle systems.
Advanced diagnostics indication for damaged batteries.
Technical Specifications.
What's In The Box
GENIUS2AU Battery Charger
GC001 Battery Clamps w/ Integrated Eyelets
User Guide & Warranty Information
Input Voltage AC
85-130 VAC, 50-60Hz
Battery Voltages
Charges 6-Volt and 12-Volt Lead-Acid and Lithium-Ion Batteries
Types of Batteries
Suitable for Wet Cell (Flooded), Gel Cell, Calcium, Lithium-Ion, AGM, Enhanced Flooded Battery or any Maintenance-Free Battery
Battery Capacity Range
Ideal for Batteries up to 40 Amp-Hours. Suitable for Maintaining All Battery Sizes.
Charging Amperage
2 Amps
Power Consumption
30 Watts (Max)
IP Protection
IP65
DC Cord
60-Inches (16AWG)
AC Cord
60-Inches (18 AWG)