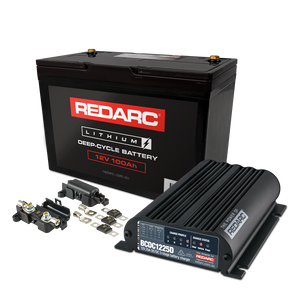 Redarc-100AH LITHIUM DEEP CYCLE BATTERY KIT
$2,22000

$2,220.00
Tax included.
Shipping
calculated at checkout.
---
---
PLEASE NOTE WE ORDER THIS BATTERY IN TO THE ORDER AND DONT CARRY STOCK AVERAGE TURN AROUND IS 4 DAYS.
A great choice for people who want to run a few low powered devices on weekend getaways and day trips.
REDARC's 12V 100Ah standard variant has a recommended continuous discharge of 50A, ideal for applications when high currents are not required for an extended period and can be used with an inverter up to 500W in size (per battery). 
Because this battery is classed as low draw, it is perfect for running 12v appliances and devices like basic LED lights, and water pumps and a portable fridge without the need for an inverter.  
Lithium ion batteries for perfect for harsh conditions 
This kit features both the 100Ah battery, a 25amp DC to DC Charger, and fuse kit to help power your next great adventure.
If you need a bit more power to run 240v appliances, you can pair 2 or more batteries with a 1000W inverter and so on.
REDARC Lithium Deep Cycle Batteries are the ultimate in deep-cycle battery technology delivering unrivalled performance and battery life. 
Build the perfect battery bank for your 4WD, RV, camper, caravan, or boat.  Light weight with huge capacity, these batteries deliver longer lasting power, and they are built for Australia's toughest conditions!
Looking for a lithium deep cycle battery to power your next adventure?
This battery is equipped with an internal Battery Management System (BMS) that can monitor and optimise each cell during charge and discharge to protect the battery pack from over charge, over discharge and short circuit.  The internal BMS also allows the balancing of cells within the batteries, allowing them to be configured and used in parallel to increase battery bank capacity for increased energy storage. You can parallel up to six 100Ah batteries together. 
Download the REDARC Lithium Battery brochure here. 
| | |
| --- | --- |
| Nominal Capacity | 100Ah |
| Recommended continuous discharge | 50A |
| Maximum discharge | 80A |
| Peak discharge | 120A |
| Recommended charge current | <30A |
| Maximum charge current | 50A |
| Recommended charge voltage | 14.6V ± 0.2V |
| Weight (kg) | 11 |
| Dimensions | 305 x 165 x 221mm |
| Warranty | 3 years |