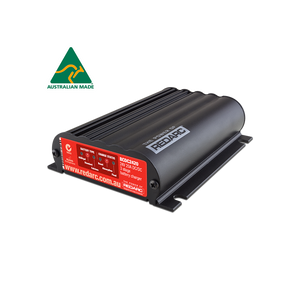 REDARC 24V 20A IN-VEHICLE DC BATTERY CHARGER
$69200

$692.00




Please note this product is in stock please email us for a invoice to be issued..

Save $474
Tax included.
Shipping
calculated at checkout.
---
---
| | |
| --- | --- |
| Input (Operating) Voltage | 9 - 32VDC |
| Maximum Charging Voltage | 30.6V |
| Output Current Rating (Cont.) | 20A |
| Input Fuse Rating | 50A |
| Output Fuse Rating | 30A |
| Warranty | 2 Years |
| Standby Current Draw | <50mA |
| Output System Voltage | 24VDC |
| Output Power | 600W |
| Length (mm) | 150 |
| Width (mm) | 120 |
| Height (mm) | 37 |
| Weight (kg) | 0.68 |
| Type Approval | E and CE |
The REDARC BCDC2420 In-vehicle battery charger is a 24 Volt 20 Amp, three stage DC DC charger that operates from a vehicle input between 9 and 32 Volts DC. It is designed to charge any commonly used automotive 24V battery system to an optimal level with chemistry specific battery charging algorithms.
The BCDC2420 features a multi-stage charging algorithm, with a 24V charging output the DC to DC charger is perfectly suited to trucking applications such as charging battery banks for tailgate lifters and side curtains.
The BCDC2420 features a MPPT Solar Regulator, which means 12V solar panels can be used to charge your 24V auxiliary batteries. The MPPT Solar charging algorithm extracts the maximum available power from your solar panels at any given time.
Features
Multi-Stage DC to DC Battery Charger
MPPT Solar Regulator
Start Battery Isolator
Fully sealed
No fan for super-quiet operation
Charges AGM, Gel, Calcium content, VRLA and Standard Lead Acid batteries
Mounting Brackets
REDARC offer a range of vehicle-specific 
mounting brackets
 for our BCDC DC-DC Charger range. The 304 stainless steel bracket allows installation into the front of the vehicle for cooler airflow, ensuring optimal performance. They have been designed to fit existing mounting points in the vehicle. 
Click here to view the range
To find out the best dual battery setup for your needs use the free REDARC Dual Battery Selector here.
Click here to view the product flyer